Our Awards & Accrediations
We love celebrating our achievements. They serve as a reminder of our contributions to society and the pride our employees have in working with Yew Seng Heng Engineering.
ISO9001
This certificate demonstrates our ability to consistently provide products that aim to enhance customer satisfaction through the effective application of the ISO system; including assurance of conformity to customers and the applicable statutory and regulatory requirements.
ISO45001
We are committed to improving employee safety, reducing workplace risks and creating better, safer working conditions. This certificate demonstrates our ability to identify hazards and put in place controls to manage them, as well as reduce workplace accidents and illnesses to cut related costs and downtime.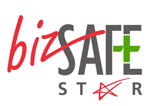 bizSAFE Star
This certification recognises that our company's Workplace Safety and Health Management System (WSHMS) identifies, manages and controls workplace risks or hazards in compliance with the Workplace Safety and Health (WSH) Act and international standards such as ISO 45001.
Top 25 Prestige Award 2014
As a result of our leadership, outstanding track record, and dedication in expanding the quality of our products and services to our clients, we received the Top 25 Prestige Award as recognition of being an elite corporation in the Construction & Engineering industry.
SME One Asia Awards 2013
This award recognised our achievements as a company, particularly for our implementation of business practices that contribute to the development of people, society and the environment.
Singapore HEALTH Award
Our people are our greatest assets. As such, it is of our utmost priority to ensure the promotion of our employees' health. This award is a demonstration of our efforts in bringing health and wellness programmes to our workplace, making healthy living more accessible.